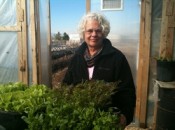 The early years of my life were spent in one of the new suburbs of NYC, with a dozen chickens and a vegetable garden in the back yard. This was common in the late forties and early fifties since access to fresh food was still a local affair, and the Victory Gardens continued after the end of the war.
Our move to a small farm in the country in 1951 was unusual for the time, as it was the beginning of rural people moving to the cities and suburbs instead! At the time the only thing I knew about a farm was from reading Dick and Jane and Baby Sally Go to the Farm! Our small backyard garden turned into a one acre expanse with a pippin apple tree in the center, and the dozen chickens became 3000 or more!
Even though my Father was a 'city boy', my Mother came from a long line of farmers, plant people, and mountain folk. She grew up in the Smokey Mountains and had the first hand experience needed to live well in that environment. Soon we were learning how to identify all the plants around us outside of the garden, knew some of what they were good for, and were also taught how to take care of ourselves in the meadows and forests of our new home. Spider webs will stop bleeding if laid over a cut, burdock or plantain leaves were good bandages, stay out of poison ivy, and stinging nettles hurt!
Time passed, the market crashed; we left the farm and became semi-suburban dwellers again. It seems farms just didn't make money, and Agribusiness was ta